"I workout out 4 days a week, and then sit at a desk for 8 hours a day and my upper body is always tight and sore. I bought this because it can be used at home. The suction is strong and I can feel the alleviating effects even after just one use. Recommend it for anyone suffering from muscle aches."
⭐⭐⭐⭐⭐ – Jared S.
✅ Verified Buyer
Traditional cupping therapy can be a labor-intensive and time-consuming task that requires skill and strength to perform. The inconvenience of traditional cupping therapy can make it difficult for people to use it as a form of pain relief. This can be a problem for those who suffer from chronic pain and tension and are in need of a convenient alternative that doesn't break the bank from constant visits to chiropractors.
Introducing FasicaPro™, a powerful and convenient tool that provides a simple and effective way to perform cupping therapy in the comfort of the home. This hand-held device has 12 modes of adjustable suction and massage techniques that work to improve blood circulation, promote mobility, and reduce pain . With a portable and lightweight design, this device saves both time and money for the ultimate convenience.
REASONS WHY OUR FasicaPro™ WILL CHANGE YOUR LIFE
✅ Powerful and Convenient: FasicaPro™ offers electric cupping therapy that is and with up to 12 modes of suction intensity and soothing heated therapy. Feel relaxed and alleviate muscle tension in the comfort of the home.
✅ Efficient and Effortless: The automatic and hand-held suction of FasicaPro™ makes it easy to use at home, saving time and effort. The advanced massaging technique provides an efficient cupping therapy experience for pain relief and tension relief.
✅ Portable and Lightweight: With its rechargeable design, FasicaPro™ offers a convenient alternative to traditional cupping therapy methods. The set is designed to be used at home, making it simple to fit into a busy lifestyle.
✅ Anti-Cellulite: Cupping therapy has been found to be effective in reducing cellulite, and FasicaPro™ can help to achieve these results by gently releasing tension in muscle fascia. Feel more confident with smooth and youthful-looking skin.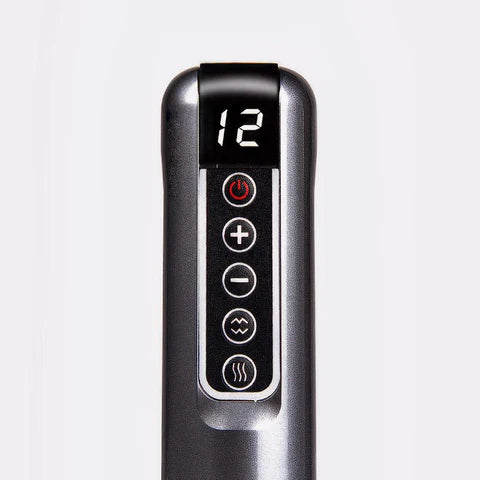 ✅ Meridian Therapy: Cupping therapy is also used in traditional Chinese medicine to stimulate the flow of energy (Qi) through the body, this electric cupping therapy set can be used for the same purpose to promote a healthy body and mind.
✅ Simple Operation: FasicaPro™ is easy to use, even for beginners, simply place the cup on the desired body area and press the button to start the suction. The adjustable suction strength allows for custom therapy to suit individual needs.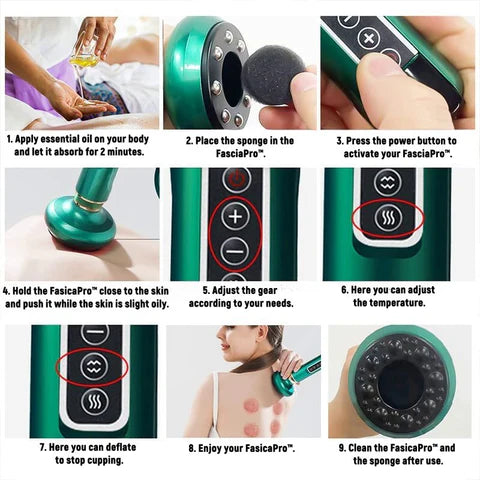 We understand that our bodies crave massages to help muscles relax, relieve tension, and reduce pain. Traditional cupping therapy, however, can be labor-intensivetime-consuming, and it requires a skilled practitioner to perform it. According to the U.S. Bureau of Labor Statistics, the average cost of a massage therapist in the United States is around $100 per hour, which is unaffordable to the average person.
Thankfully, FasicaPro™ is a hand-held do it yourself cupping therapy set that can be performed in the comfort of your home. With 12 mighty adjustable suction settings and a soothing heated plate, this set offers a powerful and effective cupping therapy experience for ultimate pain relief and tension relief. Experience the world-renowned benefits of cupping therapy today!
PRODUCT SPECIFICATIONS
Length: 3.5 in
Wide: 3.5 in
Height: 7.5 in
PACKAGE INCLUDES
1 FasicaPro™ – Cupping Therapy Device
1 USB Charging Cable
1 User Manual
4 Filter sponge
10 ml Essential oil
At Heykomi, we believe in the quality of our products therefore we offer a 30 Day Money Back Guarantee with no questions asked! When you purchase from us, there is ZERO Risk for you!